Award Winning
Dentistry You Can trust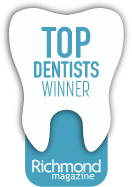 Kind, Caring & Qualified
Get to Know Your Dental Team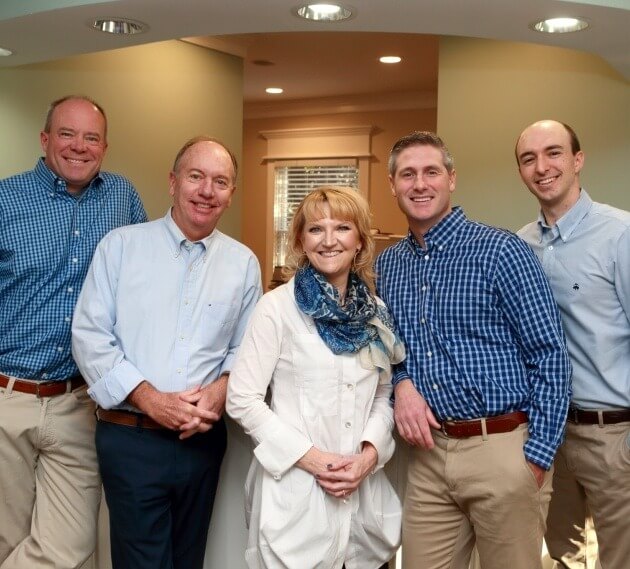 Finding the right team of dental care professionals who is capable of handling your family's various dental needs with expert skill and genuine compassion can be a challenge. Here in Richmond, our dentists are proud to check all of these boxes and so many more! They've won numerous awards over the years for their dedication to providing excellent oral healthcare and regularly go above and beyond to ensure that even the most advanced treatment plans are smooth and stress-free for patients in need.
Meet the Dentists
Meet Your Dental Team
Dental Patient
Reviews & Testimonials
Over 300 5-Star Reviews
"Love this place! I had the best experience here in regards to the staff and services. The receptionist is very friendly. The waiting room is itself is very relaxing and welcoming. The room where my dental cleaning was super clean, sterile. The chair I sat in was comfortable. My dental hygienist Madison Browder was AMAZING!!!"
Elizabeth J., Richmond, VA
"I would give Dr. Brown, Erica and his staff 50 stars if I could! He is absolutely the only Dentist I felt I could truly trust to replace my old chipped and stained composite veneers with absolutely beautiful porcelain veneers. I am now confident that my smile will stay beautiful and healthy the rest of my life…"
Mary C., Richmond, VA
"I've been a patient at this practice since I moved to the area about 20 yrs ago and now I entrust the dental care of my five kids to this fantastic staff. Not only does this practice provide great dental care but their amazing relationships with patient create a welcoming and comfortable environment with very personalized attention."
Kate S., Richmond, VA
Featured Dental Services
The Quality Care Your Smile Deserves
Every patient's journey towards improved oral health and confidence is slightly different, which is why our team offers a wide variety of services here in-office. Our dentists work closely with each person in the dental chair to truly understand their reasons for visiting and what they hope to accomplish, building relationships and creating entirely custom treatment plans. We also regularly utilize trusted specialists to deliver the best comprehensive care possible. Whatever you need, our team is ready to make it happen!
Additional Dental Services
A Little More About What We Do
×
COVID-19 Message to Our Valued Patients
We hope that you are all staying healthy and happy! You may have heard that the governor recently announced that as of midnight on April 30, 2020 he is lifting the mandate that required dental offices to close for non-emergent care.
We are excited to announce that as of Monday, May 4, 2020 we have reopened. If you had an appointment affected by the coronavirus, we will be reaching out to reschedule. If you have a scheduled appointment upcoming, we will be calling to confirm your appointment. Due to some of the measures that we are putting in place for your safety, we may need to adjust appointment times and possibly dates. Please be patient with us as there are a lot of patients whom we need to contact.
For the safety of our patients and our team, we have implemented the following changes:
The office hours will be Monday – Thursday from 8:00am - 5:00pm and Friday 8:00am - 12:00pm.
In an attempt to limit the use of communal pens and clipboards, we will be emailing and/or texting all paperwork that needs to be filled out prior to your appointment. Additionally, any updating of insurance cards and ID's can be done utilizing a picture sent via text message through our secure messaging service.
We will be utilizing the same screening questions most of us have become familiar with over the past few weeks. If you have a fever, any respiratory or GI symptoms, a sudden loss of taste or smell, and/or have tested positive for or have been in contact with someone who tested positive for Covid-19 please reschedule your appointment.
If you have been diagnosed with moderate or severe asthma, chronic lung disease, diabetes, a serious heart condition, kidney disease requiring dialysis, severe obesity, liver disease, are immunocompromised, are 65 years and older, or live in a nursing home or long-term care facility you are at a greater risk of contracting COVID-19 and should consider rescheduling routine care.
We will require you to wear a mask or face covering to your appointment. We have a limited number of masks, and need them to keep our team safe, therefore we cannot supply all patients with a mask.
Please brush immediately before coming to your appointment. We have temporarily removed our courtesy toothbrushes from the bathrooms.
Please arrive 10 minutes early for your appointment in order to check in and complete our screening questionnaire. Because of these additional safety measures, if you are 5 minutes late for your appointment, we unfortunately will have to reschedule.
Once you arrive, please come to the screening station in the office reception rooms.
After you pass screening, we will ask that you wait in your car. The reception room will be available for anyone that has a medical need and cannot return to their car.
We ask that all adult and teen patients enter the office alone. Children are allowed to be accompanied by one adult. Although we love seeing everyone in the family, our goal is to minimize the number of people in the office and abide by social distancing guidelines.
We might look a little different when you see us. Because we are working in a higher risk environment, we will be wearing additional personal protective equipment. It is for your safety.
Lastly, we want you to know that your safety, the safety of all patients, and the safety of our team has always been of utmost importance to us. We have always protected you through following the recommended CDC and OSHA sterilization and disinfection guidelines. We continue to follow these protocols and have implemented additional steps to ensure everyone is safe. We want to thank each and every one of you for your patience and understanding during this unprecedented time. We cannot wait to see your smile again soon!
- Brown, Reynolds, Snow, LeNoir Dentistry