Invisalign – Richmond, VA
Keep Your Confidence While You Straighten Your Smile
You've always wanted to straighten your teeth, but at this point in your life, you don't want to wear metal braces for several years to make it happen. We have wonderful news! You can realign your smile without sacrificing your appearance. Made of clear plastic, Invisalign aligners are subtle and practically disappear when worn. As a result, you don't have to worry about metal brackets and wires interfering with your social and professional interactions. Reach out to one of our two dental offices to straighten your teeth and finally have the smile you've dreamed about thanks to Invisalign in Richmond, VA.
Why Choose Brown, Reynolds, Snow, LeNoir Dentistry for Invisalign?
Customized Treatment Plan Just for You
Multiple Dentists with Years of Experience & Training
Low-Interest Financing with CareCredit Available
What Are the Benefits of Invisalign?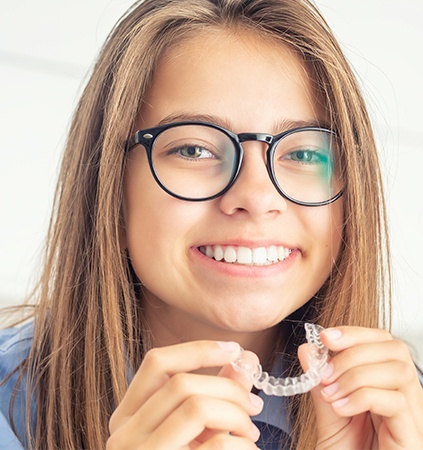 When you choose Invisalign over traditional braces, you can enjoy the following advantages:
Less irritation: The smooth plastic feels much nicer on your lips and cheeks than bulky metal brackets.
Faster treatment: While traditional braces take 24 to 36 months, Invisalign can typically be completed in 12 to 18 months.
Easier maintenance: Instead of having to brush and floss around the brackets and wires, you can take the aligners out and continue your normal oral hygiene routine.
No food restrictions: You can eat whatever you want with Invisalign. Just be sure to brush and floss before putting the aligners back in.
What Is the Invisalign Process?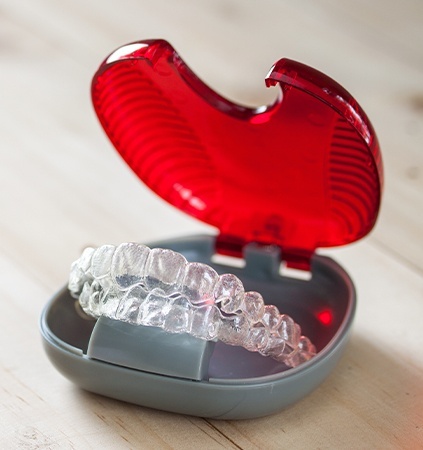 During a consultation with one of our dentists, you can both determine whether Invisalign is a good choice for your smile. At this point, we will take impressions of your teeth and start creating your treatment plan. An Invisalign dental lab will fabricate your aligners accordingly and send out the first few sets. Once they arrive, you'll wear each set for at least 20 hours every day for about two weeks at a time. Then, you switch to the next set. You'll need to come into our dental office every once in a while so that we can make sure you're progressing as planned.
Who Is a Good Candidate for Invisalign?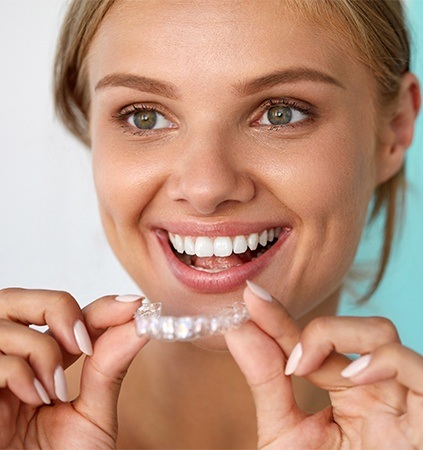 Although many patients qualify for Invisalign treatment, it may not be right for everyone. You need to have only mildly or moderately misaligned teeth. More severe cases may require traditional braces. Also, you must be compliant with our instructions; otherwise, you'll experience delays in treatment, potentially costing you more in the long run. In reality, the best way to know whether Invisalign could work for you is to meet with one of our dentists for a more detailed discussion and exam.
Understanding the Cost of Invisalign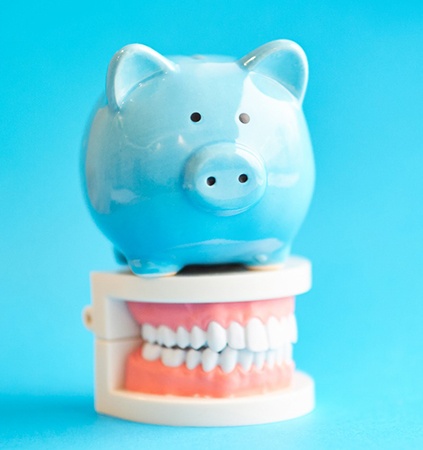 Invisalign lets you keep your confidence while you straighten your smile, but how much does it cost? The truth is, the price of Invisalign in Richmond can vary greatly from patient to patient. Each treatment is tailored to meet the unique goals and needs of the patient, so no two Invisalign journeys will look exactly alike. During your initial consultation, we'll look at several important factors in order to give you a personalized estimate of the length and cost of your treatment. Until then, read on to learn more important information about the cost of Invisalign.
Factors that Affect the Cost of Invisalign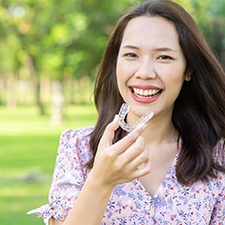 Several factors will influence the final cost of your Invisalign treatment, such as:
Case Complexity: The more severe or complex your orthodontic problems are, the more expensive your treatment may be. For example, closing a small gap between the front two teeth will be less expensive than correcting an entire arch of crooked and overlapping teeth.
Treatment Length: The longer your treatment takes, the more aligners you'll need, which will inevitably add to the overall cost.
Your Compliance: If you lose your aligners frequently, break them often, or don't wear them enough, your treatment may get off track, which would increase its length and cost.
Invisalign VS Smile Direct Club™: Which Costs More?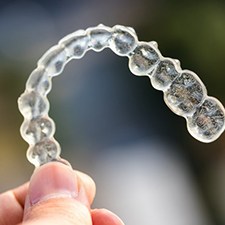 Invisalign is undoubtedly one of the most convenient ways to correct orthodontic issues. However, companies that offer mail-in aligners, like Smile Direct Club™, may sound pretty tempting. However, these do-it-yourself orthodontics can potentially cause a lot more harm than good.
With mail-in aligners, you'll be in charge of taking impressions yourself, and if they're not done correctly, the aligners may move your teeth even further out of place. Plus, you won't have a trained dentist monitoring your situation to ensure your treatment is going as planned. Of course, that also means that if something were to go wrong, you'd have no where to turn except for the customer support email or automated phone line. When you choose to come to us for your Invisalign treatment instead, you can rest easy knowing that you have a highly trained team with you every step of the way to ensure everything goes exactly according to plan. Remember, when it comes to straightening your smile, cheaper is not better!
Does Dental Insurance Cover Invisalign?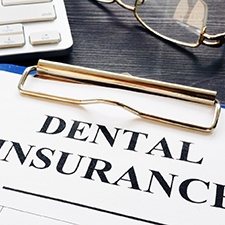 This depends on if your specific dental insurance policy covers orthodontic treatments. Not all policies do, and even among those who do, not all cover Invisalign. To find out your coverage, contact your insurance provider. We'll also be happy to review the details of your plan over the phone or during your initial consultation. Our team will make sure that your benefits are being maximized and your out-of-pocket expenses are being minimized.
Options for Making Invisalign Affordable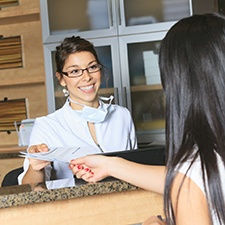 Don't have dental insurance? Not satisfied with your coverage? Not to worry! We want to make achieving a happier, healthier smile as affordable as possible. That's why we also offer:
In-House Dental Membership Plan: As an exclusive deal with our practice, you can pay one flat fee for a year of basic dental care and 15% off all other treatments, including Invisalign.
CareCredit Financing: CareCredit offers low- to no-interest payment plans so you can gradually pay for your Invisalign treatment over several months or even a year in smaller, more manageable payments that fit into your budget.
Invisalign FAQs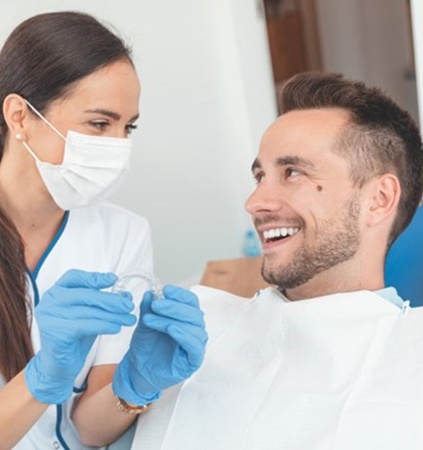 Are you excited to keep your confidence while you straighten your smile with Invisalign in Richmond? This unique orthodontic treatment is very different than traditional metal braces, so it's natural to have a few questions. While we'll be more than happy to personally answer all your inquiries during your initial consultation, feel free to take a look at some frequently asked questions we've gathered for you below!
Will Straightening My Teeth with Invisalign Hurt?
Traditional metal braces are notorious for their sharp wires and brackets that wreak havoc on soft tissues like the lips, cheeks, and tongue. Since Invisalign aligners are crafted from a single, smooth piece of biocompatible plastic, you can expect a much more comfortable experience! However, moving teeth into a new position will always cause some level of discomfort. While you may experience some soreness for a few days after starting a new set of aligners, it should be short-lived and easily managed with over-the-counter pain relievers and ice packs.
How Long Do I Have to Wear My Invisalign Aligners for Every Day?
While the removable nature of Invisalign aligners is one of its most popular benefits, it's also one of its greatest responsibilities. It will be up to you to keep your treatment on track by wearing your aligners for 20-22 hours every day. If you don't wear them often enough, your teeth may begin to shift back out of place. This could potentially increase both the timeline and cost of your treatment!
What Foods Can I Eat During My Invisalign Treatment?
Unlike traditional braces that require you to adhere to a diet that doesn't contain sticky, crunchy, or hard foods, you can eat anything you like during your Invisalign treatment! Simply take your aligners out, enjoy your food, then give your teeth a quick brush before popping your aligners back into place. However, it's important to remember that you should always store your aligners in their case when you're not wearing them. While it may be tempting to wrap them up in a napkin while you eat, it's all too easy to accidentally leave them behind or throw them away!
Will Wearing Invisalign Aligners Change How I Talk?
In the beginning of your Invisalign treatment, it may sound like you have a slight lisp. This is because the placement of your new aligners blocks some of the areas your mouth uses to make certain sounds. But don't worry—this won't last for very long! Your tongue simply needs time to adjust to the presence of your aligners. Typically, the lisp will fade on its own within a week or two. To speed up this process, you can practice speaking aloud and repeating words like "sixty" and "Mississippi."
Can I Get Invisalign If I've Had Metal Braces Before?
Many patients who had traditional braces earlier in life but then neglected to wear their retainer find that their teeth have become crooked again years later. Thankfully, Invisalign is typically a great choice for anyone with slightly to moderately misaligned teeth. We'll carefully inspect your teeth, jaw, and bite during your consultation to ensure that Invisalign is the most effective solution for your smile.