Veneers – Richmond, VA
Beautifully Revamp Your Smile
If you've ever watched a movie and wondered how actors always seem to have perfect smiles, odds are you've seen veneers in action. When it comes to revitalizing your smile, few options are as versatile or effective as veneers. These restorations are bonded to the front surfaces of your problem teeth to mask all kinds of cosmetic imperfections, such as chips, cracks, minor gaps, or generally misshapen teeth. Want to easily and beautifully revamp your smile? Give us a call today to see if veneers in Richmond are right for you.
Why Choose Brown, Reynolds, Snow, LeNoir Dentistry for Veneers?
Experience, Compassionate Dentists
Low-Interest Financing Available
Conceal Multiple Smile Flaws at Once
What Are Veneers?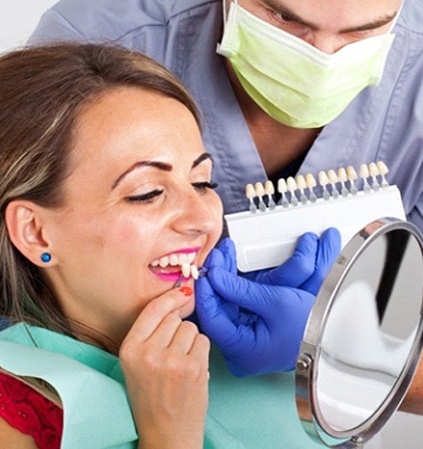 Veneers are thin shells made of dental porcelain. Think of them like little "masks" that cover flaws on your pearly whites. Each one is custom-made to not only improve your smile, but blend in with the rest of your teeth. Once we have made sure that each veneer is perfectly crafted to suit your smile, they will be permanently bonded to the front surfaces of your affected teeth to give your grin the appearance of being effortlessly perfect.
Benefits of Veneers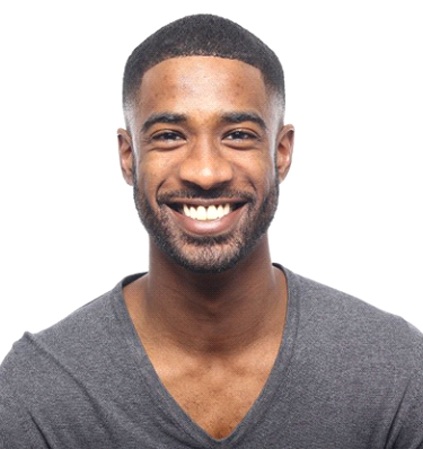 The material that we use to craft veneers is actually quite similar to what dental crowns are made of. The main exception is that instead of completely covering the tooth, veneers only adhere to the front surface. Because of this, this treatment offers several advantages, such as:
Dental porcelain is quite durable and can last up to 20 years.
Porcelain is also highly resistant to staining.
This material looks and feels just like natural tooth enamel.
Placing veneers typically only takes two appointments with your dentist in Richmond.
The Process of Getting Veneers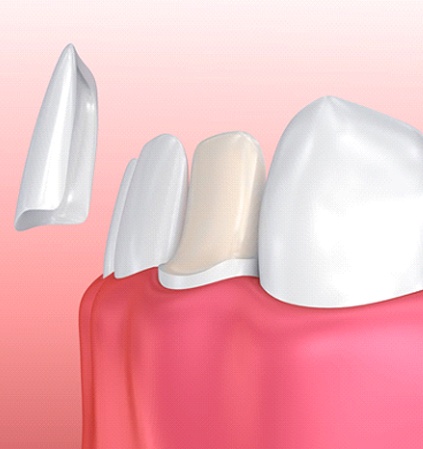 After your initial consultation with one of our dentists, your veneers can be placed in just two visits to our office. At this appointment, we'll examine your teeth and gums, making sure everything is in adequate health to receive veneers. Once this is taken care of, we can begin the process.
During the first of two appointments, we'll remove a tiny sliver of enamel (about as thin as a contact lens) from your affected teeth. Next, we take impressions of your mouth to design a mold that will be sent to a dental lab. From there, a team of professional ceramists will create your veneers based on that data. In the meantime, we'll place temporary veneers to let you get used to the way they feel in your mouth as well as protect your teeth. When the lab has finished crafting your veneers, we'll replace your temporaries with your permanent restorations and voila! Your smile is instantly transformed.
How to Make Your Veneers Last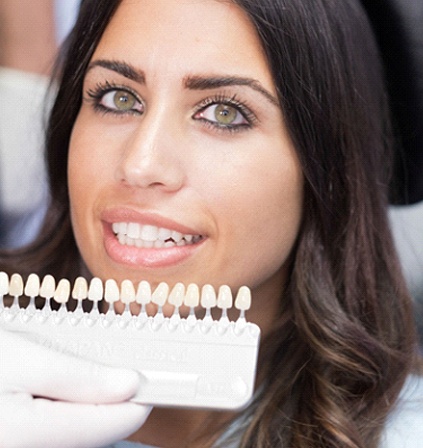 Like any other dental restoration, the lifespan of your veneers will depend heavily on how well you take care of them. The good news, though, is that veneers don't really require any special care beyond what you would give to your natural teeth. Essentially, make sure you brush and floss every day. In addition, come into our Richmond office for checkups at least twice a year. These small daily habits can help keep not just your veneers, but your natural teeth looking and feeling great.
Porcelain Veneers FAQ's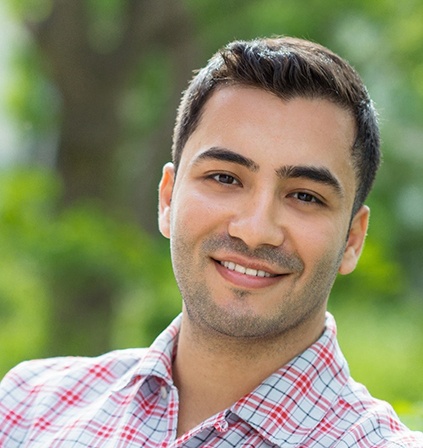 Are you still curious about veneers in Richmond? We want all of our patients to have the information they need to feel sure about the time and money they spend on their smiles. That's why we've included the answers to some of the most frequently asked questions about porcelain veneers! Read on to learn more about one of our most popular cosmetic dentistry treatment options.
How Do I Know if Veneers are Right for Me?
One of your main questions is probably about your candidacy for veneers. The Best way to know if porcelain veneers are right for you is to visit our office for a consultation. One of our experts will carefully examine your smile, checking for imperfections and flaws that affect your teeth. After, we can develop a personalized treatment plan! Typically, patients with a combination of chips, cracks, gaps, discoloration, and more can benefit from veneers. That's because this treatment can correct numerous problems at the same time.
How Many Porcelain Veneers Will I Need?
The beauty of porcelain veneers is that they can be used for one tooth, your entire smile, or any number in between. Our experts take pride in their ability to blend art and science, matching your veneers to the rest of your smile for a radiant set of teeth. By using high-quality materials that reflect light like your natural grin, we can seamlessly veneer any pattern of teeth to conceal imperfections and enhance the appearance of your smile. To know the exact number of veneers you may need, don't hesitate to contact our office and set an appointment.
Is There a Way to Preview My Veneers Before They are Permanently Placed?
We want all of our patients to feel confident in their treatment as well as the results they can expect. Porcelain veneers are a big commitment, which is why we offer the opportunity for patients to see how veneers can change their life with a virtual smile design. Using the latest technology, we can show you exactly how your smile would look if you were to choose veneers for your treatment. That way, you can look forward to a beautiful smile at the end of the process.
Are There Habits to Avoid with Porcelain Veneers?
Once you get porcelain veneers, you can enjoy their beauty for at least 10 to 15 years as long as you care for them properly. However, in addition to brushing, flossing, and routine dental visits, you should also watch out for certain habits that can harm your veneers. Avoid habits like nail biting, straw chewing, or biting on any non-food items to protect your new smile. Additionally, be extra careful when it comes to eating hard items like candy and popcorn kernels.
If you have any additional questions, don't hesitate to contact our office today!