Replace Missing Teeth – Richmond, VA
Enjoy a Complete
Smile Again
Along the way in life, you've lost a tooth or two. Whether from decay, gum disease, or another cause, you have gaps in your smile, which not only impact your eating and speaking ability, but also increase your chances of losing additional teeth—unless you replace your missing teeth. At Brown, Reynolds, Snow, LeNoir Dentistry, we can help you find the solution to repalce missing teeth in Richmond, VA that best meets your needs and fills in these holes for a complete, healthy smile again.
Why Choose Brown, Reynolds, Snow, LeNoir Dentistry to Replace Missing Teeth?
Start-to-Finish Dental Implant Treatment Offered
High-Quality, Custom Restorations
Award-Winning Care & Service
Dental Implants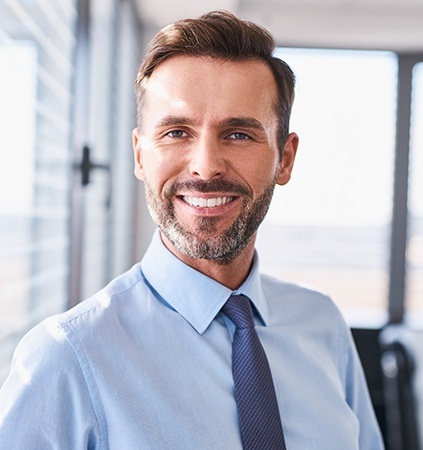 Are you looking for a permanent answer to your tooth loss? Although dental bridges and dentures restore the top portion of missing teeth, only dental implants replace the entire tooth structure. Why is this important? Without a tooth root to draw nutrients to the area, the jaw bone will begin to deteriorate, which weakens your bite, changes your facial shape, and necessitates frequent replacements. However, with dental implants, these issues are not a problem.
Dental Bridges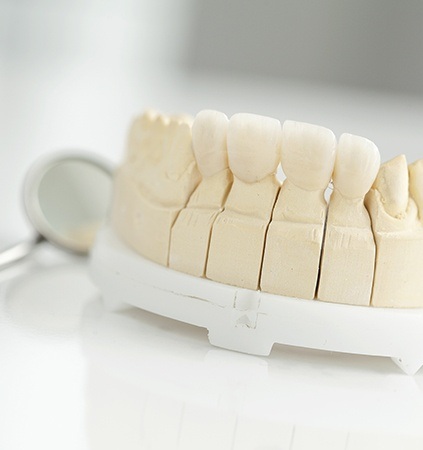 For a single lost tooth or a couple of missing teeth right next to each other, you may want to consider a dental bridge. In this restoration, three or more dental crowns are bonded together with the two end crowns left hollow. The dental bridge is then placed on top of the two natural teeth that are located adjacent to the gap, and the prosthetic teeth in the middle replace the missing ones.
Learn More About Dental Bridges
Dentures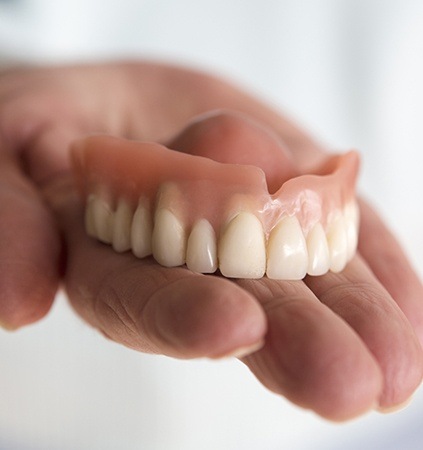 Although the concept of dentures hasn't changed, the materials certainly have. The dentures we create for our patients look and feel more natural than ever before! If your missing teeth are spread throughout your mouth, a partial denture can fill in the gaps and is held in position using metal clasps. For patients who have no remaining natural teeth, a full denture can bring them back and enable someone to recover their quality of life.
Hybrid dentures, as the name implies, mix a reliable conventional denture with the modern security of dental implants. Instead of recreating each lost tooth individually, our team can place a small number of dental implants that will support a specialized prosthetic, providing not only a strong, comfortable fit, but excellent aesthetics as well. Implant-retained hybrid dentures are less prone to slipping and allow for a more varied diet, allowing you to get back to the higher quality of life you deserve.