Emergency Dentist — Richmond, VA
When You're In Pain,
We'll Be There
When you break a bone or become very ill, you see a doctor. But what do you do when you experience dental pain or damaged tooth? Although your first instinct may tell you to go to the emergency room, they are not equipped or trained to handle urgent dental issues. At most, they'll give you pain medication and antibiotics. Instead, turn to our highly trained professionals who can treat the cause of the problem. Give us a call if you have need urgent dental treatment, and we'll take care of you like family with emergency dentistry in Richmond, VA. When you're in pain, we'll be there, so don't hesitate to give us a call.
Why Choose Brown, Reynolds, Snow, LeNoir Dentistry for Emergency Dental Care?
Patients of All Ages Welcome
Same-Day Emergency Appointments Available
Two Convenient Locations in Richmond
How We Treat Dental Emergencies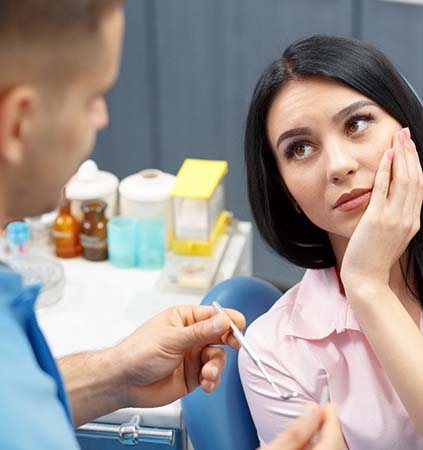 We know that dental emergencies tend to be sudden, overwhelming, and alarming, but we encourage you not to panic! Staying calm will help you act quickly and correctly, which could potentially make all the difference between saving and losing a tooth. First, give us a call. From there, here's what you can expect:
We'll schedule you a same-day appointment. We go above and beyond to see emergency patients the same day they call us. We'll also give you first-aid guidance for handling your situation until you can reach us.
You'll see one of our talented dentists for an exam. As soon as you arrive, your Richmond emergency dentist will see you for an evaluation and relieve any serious pain you may be experiencing.
We'll help you make a personalized treatment plan. Next, we will go over our findings with you and fully explain the treatment options we recommend. We'll work with you to put together a plan for getting your oral health back on track that works for you.
You'll get the fast, professional care you need. Once a treatment plan has been made, our experienced and compassionate team will get to work repairing your smile right away. Whether you need a filling, root canal therapy, or something else entirely, our top priorities will be your safety, wellbeing, and comfort.
The Most Common Dental Emergencies
Unless you have a broken jaw, uncontrollable bleeding, or trouble swallowing, your first move when dealing with a dental emergency should be reaching out to one of our Richmond dental offices. We will not only set you up with an appointment as soon as possible, but we can also give you guidance specific to your situation. That way, you can take the right actions that will lead to the best possible outcome. Below are just some of the possible emergency scenarios you might experience and how to respond.
Understanding the Cost of Dental Emergencies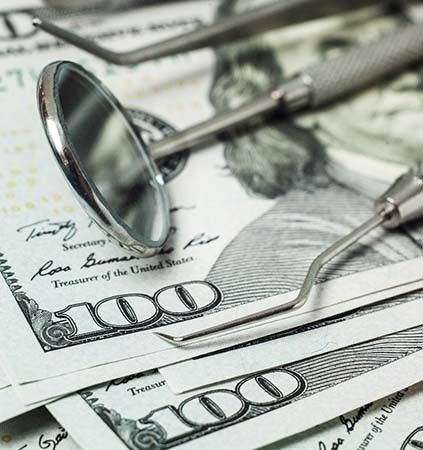 With some medical conditions like a cold, you can often "wait it out," meaning that eventually, the problem will go away. This tactic doesn't work with dental issues at all. In fact, the longer you wait to seek professional help, the more damage (and pain) will develop, which will only increase the cost of treatment. The most cost-effective approach for a dental emergency is to come see us right away.
Every Dental Emergency is Different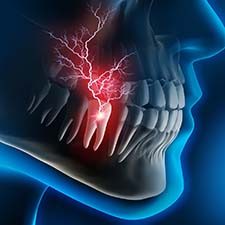 In most cases, visiting an emergency dentist in Richmond is relatively inexpensive. During this first appointment, our team will examine your mouth and determine which treatment(s) you need to get your smile back in tip-top shape. Until we've assessed your specific needs, it's essentially impossible for us to give you a cost estimate. Some of the treatments we may recommend could include:
Tooth-colored fillings
Dental crowns
Root canal therapy
Tooth extractions
And more!
Before we begin any treatment, our team will be sure to discuss your treatment options, and their pricing information, with you.
Does Dental Insurance Cover Dental Emergencies?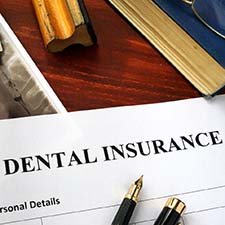 Dental insurance providers understand that emergencies happen. As such, they typically cover one emergency exam a year. Some of the most common emergency dentistry treatments, like root canal therapy, are eligible for partial coverage. However, each plan is different. Our team is happy to look through your plan's details and file your claims. We even offer in-network savings with many popular PPO dental insurance plans.
Other Options for Making Dental Emergencies Affordable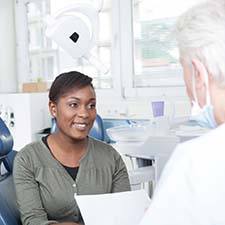 If you don't have dental insurance, we have other financial options available, like CareCredit. This third-party financing company lets you break up the cost of your treatment into budget-friendly monthly payments with very low or even zero interest.
Another option is our in-house dental membership plan. All you have to do is pay one flat fee, and all of your routine dental care for the year is covered. It also gives you discounts on most of our other services, including ones that insurance doesn't typically cover (like dental implants). There are also no annual maximums, waiting periods, or deductibles to worry about.
Taking Care of Your Smile Can Save You Money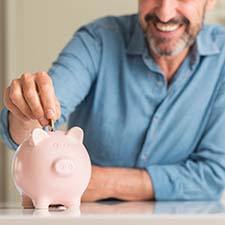 While some dental emergencies are accidents that can't be avoided, a majority of them happen because of unchecked decay or damage that worsens over time. That's why keeping up with at-home oral hygiene, and investing in two checkups and cleanings a year, can save you a great deal of money in the long run.
It's also important to notify us as soon as you can once a dental problem occurs. Even if you're worried about the potential cost of dental emergencies, waiting usually only increases the price. For example, getting an aching tooth looked at right away could mean the difference between saving the tooth with a root canal and having to get it extracted and replaced, which is several times more expensive.
Keys to Preventing Dental Emergencies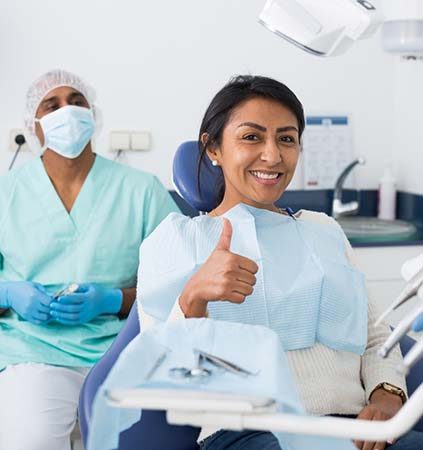 The majority of dental emergencies are typically the result of unchecked damage or infection. That said, it doesn't mean there aren't certain measures you can take to protect your smile and significantly reduce your risks. An urgent situation can often seem frightening, stressful, and costly, so it's best to know what you can do to prevent it from happening altogether. That's why our team is more than happy to help you be well-informed in the ways you can preserve your smile in the long run. Keep reading to learn how to prevent dental emergencies in Richmond.
Schedule Regular Dental Visits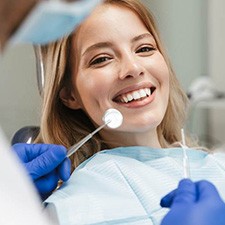 Visiting your dentist every six months is one of the most important ways to maintain a safe and healthy smile. Our team will thoroughly polish your pearly whites as well as perform a detailed oral examination of your mouth. This will allow us to ensure there aren't any underlying issues or provide treatment for any problems we may detect. By addressing dental concerns early on, we can help keep them from worsening over time. If you haven't already, be sure to schedule your next appointment as soon as possible.
Maintain Good Oral Hygiene At Home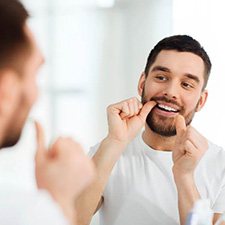 In between dental visits, you'll want to implement a strict oral hygiene routine every day to maintain your smile. This should involve brushing twice a day for two minutes, flossing daily (or after every meal), and rinsing with mouthwash frequently. By doing so, you can effectively remove harmful bacteria from collecting around your teeth and gums, preventing the risk of issues like cavities, decay, and gum disease.
Keep a Well-Balanced Diet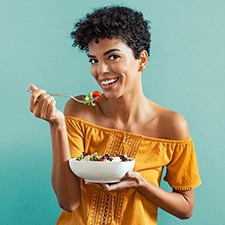 Your diet has an incredible influence on your oral and overall health. For this reason, you'll want to refrain from overindulging in sugary, starchy, and acidic meals, as these can wear down your enamel and promote problems like gum disease and cavities. A good way to avoid these concerns is by keeping a diet consisting of vitamin-rich and nutrient-dense foods. These may include vegetables, fruits, whole grains, dairy products, and lean proteins to keep your teeth, gums, and bone tissue strong and healthy!
Wear a Protective Mouthguard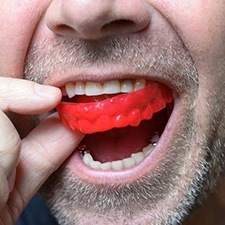 The last thing you'd want is to experience a chipped, cracked, or knocked-out tooth. If you typically play contact sports, you may be at risk of taking a blow to the mouth and damaging your smile. To prevent this, consider investing in athletic mouthguards to protect your teeth and gums from impact. Likewise, if you grind your teeth at night, feel free to ask our team about nightguards for bruxism to avoid wearing down your enamel.
Use Tools, Not Your Teeth, to Open Packages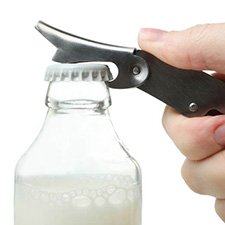 Though it may seem convenient to simply use your teeth to open up packages or bottle caps, this can also easily result in an accident. One wrong move or bite and you can end up chipping or damaging a tooth. The only thing you should use your pearly whites for is eating and smiling. If you don't want to visit an emergency dentist, make sure to use the proper tools for the job.
Dental Emergency FAQ's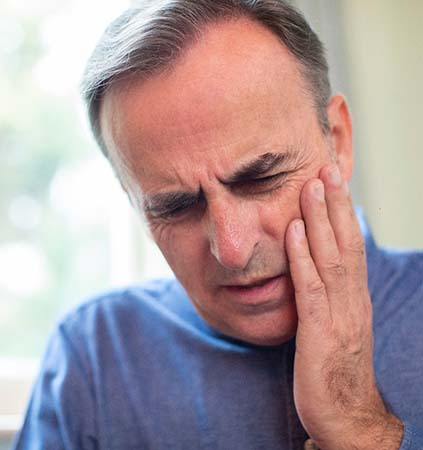 No one ever expects to need an emergency dentist; however, sudden oral health issues are more common than you might realize. Research shows 1 in 6 Americans has a dental emergency annually. If you're like many people, you may not know what to do when the unexpected strikes. Don't panic! Here are the answers to a few of the most common questions patients ask us about dental emergencies to help make the difficult situation a bit easier.
Should I Go to the ER or a Dentist?
If you have a sudden oral health concern, your first instinct might be to head to the closest hospital, but that may not be the best solution. Although they can prescribe antibiotics and pain relievers, they can't treat the underlying issue, like a broken or knocked-out tooth. Instead, unless you're having a medical emergency, it's always better to contact us. We'll get to the root of the problem to stop your pain and save your smile.
Can I Wait to See an Emergency Dentist?
No one has time in their schedule for an unplanned trip to the dentist; however, as with any emergency, time is of the utmost importance. If you wait too long to see your dentist, you might lose your tooth. Instead, contact your dentist right away. We understand your time is valuable, which is why we use the latest treatments and techniques to reduce the amount of time you spend in the dental chair without compromising the results.
Is It Best to Just Have My Problematic Tooth Extracted?
Removing a problematic tooth might seem like a simple solution, but it opens the door to a long list of new complications. Every tooth is crucial to a healthy, functional smile. Extracting even one increases your risk of tooth decay, gum disease, and additional missing teeth. Not to mention, you'll need a prosthesis which can get costly over the years. We recommend saving your tooth whenever possible. If there aren't any viable treatment options, we'll suggest having your tooth removed. We will explain your replacement options, like using a dental implant.
Can I Use My Dental Insurance for Emergency Dental Care?
Every dental insurance policy is unique; however, many plans can be used to help offset the amount you need to pay out-of-pocket. After reaching your annual deductible, you have access to a yearly limit to reduce the cost of certain dental services. You can use your plan to lower the amount you pay for various steps in your treatment, like the consultation, X-rays, or restoration. A member of our team will work on your behalf with your insurance company to file the necessary claim forms, so you have one less thing to worry about. We will take the time to explain how your coverage is being used and if you owe a remaining balance. Our office accepts a variety of payment methods to keep your treatment affordable, like using third-party financing. We'll help you find the solutions you need to restore a healthy smile without draining your wallet.