Dentures – Richmond, VA
Tried-and-True
Tooth Loss Solutions
Going through your everyday life when you're missing teeth can be difficult, to say the least. Not only can it hinder your confidence in your appearance, but eating and speaking become incredibly frustrating. One easy way to enjoy a full and complete smile again is by replacing your lost teeth with dentures in Richmond, VA. At Brown, Reynolds, Snow, LeNoir Dentistry, we can bring back any number of missing teeth with these tried-and-true tooth loss solutions. Call us today to find out how our high-quality dentures can help you smile again!
Why Choose Brown, Reynolds, Snow, LeNoir Dentistry for Dentures?
State-of-the-Art Implant Dentures Offered In-House
High-Quality, Lifelike Materials Used
Award-Winning Dental Care & Service
Who Is a Good Candidate for Dentures?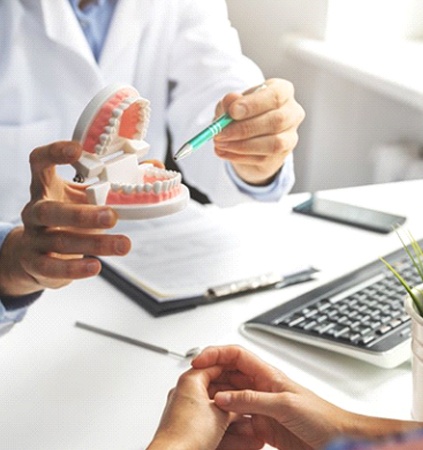 Most patients, whether they're missing just a few teeth or an entire arch, make good candidates for dentures. To make sure that this solution is right for you, your dentist in Richmond will conduct a thorough exam of your gums and remaining teeth during an initial consultation. If we find any untreated oral health issues, such as gum disease, we'll have to address those before we can move forward with your tooth replacement process.
Types of Dentures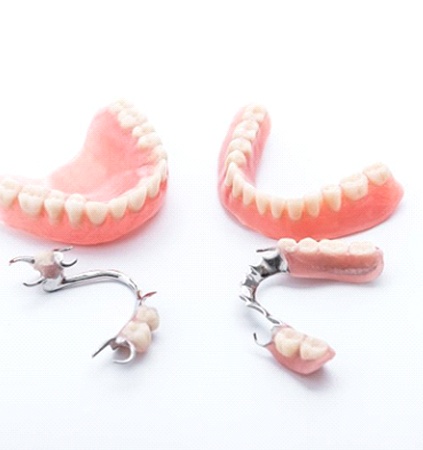 Dental technology has come a long way since the days of hearing your grandparents complain of ill-fitting or uncomfortable dentures. Today's dentures are more lifelike than ever before. Based on your individual needs and preferences, our dentists can recommend one of the three types of dentures:
Partial Dentures
If you're only missing a small number of teeth, a partial denture can seamlessly fill the empty spaces. Artificial teeth are attached to a gum-colored base that clasps behind your remaining teeth. Once the partial is in place, others shouldn't be able to tell the difference between which teeth are real and which are the denture!
Full Dentures
We can recreate an entire arch of teeth with a full denture. Like partials, full dentures consist of a pink base and realistic replacement teeth. However, this prosthetic sits directly on the gums and remains in place with adhesive, natural suction, or some combination of the two.
Implant Dentures
Also known as hybrid dentures, implant dentures are secured onto a small number of dental implants that we surgically place throughout the jaw. Implant dentures not only last several times longer than traditional dentures, but they also prevent unwanted slipping.
The Benefits of Dentures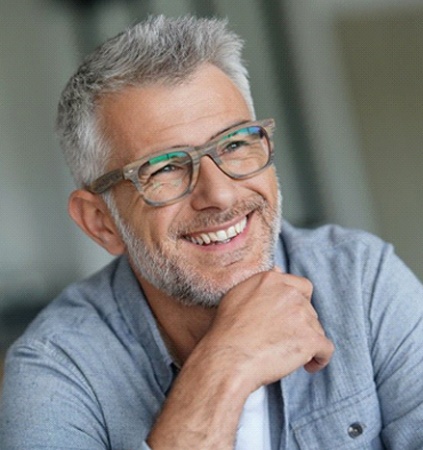 Dentures have existed in some form or fashion for centuries. They're a classic method of tooth replacement that has only improved with time. By rebuilding your smile with dentures, you can enjoy several benefits, including:
An affordable tooth loss solution
The ability to chew without pain again
Teeth that are customized to look 100% natural
Easy cleaning and maintenance
Preservation of your youthful face shape
Denture FAQs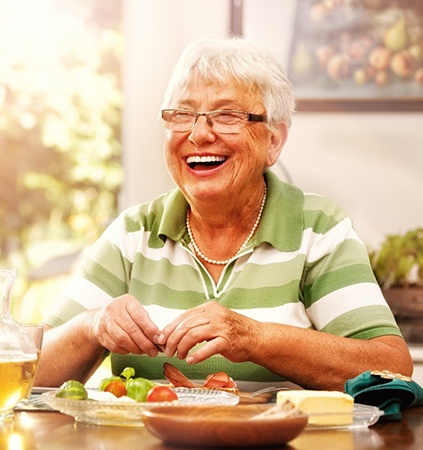 Dentures can be lifechanging for people who are missing several, most of, or all of their teeth. However, you want to be well informed before choosing the best tooth replacement option for you. Here are the answers to some of the most common questions we are asked about dentures. If you don't see your question listed below, don't worry. Just give us a call. We'd be happy to answer any denture-related questions you have and schedule you for a consultation.
Can I Sleep with My Dentures?
Dentures usually recommend that you take your dentures out at night when you go to sleep. However, when you first get your dentures, you will typically be told to keep them in your mouth for 24 hours. After this initial period, you should be taking them out each evening before bed. When you wear dentures, they restrict the circulation in your gums and can cause soft tissue irritation and speed up ridge resorption. By taking your dentures out, you are giving your gums the chance to recover and get those nutrients they need during the night.
The dark, moist area under your dentures is also an ideal place for bacteria to thrive. Because of this, sleeping with dentures has been found to be associated with a higher risk of pneumonia. Poor oral hygiene and higher levels of gum and tongue plaque are also associated with wearing your dentures too long. Ultimately, it is best to take them out while you are catching some z's!
Will It Hurt to Get Dentures?
If you need to have teeth extracted before you get dentures, you may experience some discomfort after your oral surgery. By taking your prescribed and over-the-counter pain medications as directed, your discomfort can be managed. When you first receive your new dentures, you may experience some minor irritation as your mouth adjusts to the appliance. Over time, this discomfort will diminish. If you switch to a new set of dentures, the adjustment process may take longer than before. If pain persists, let your dentist know. This way, any underlying oral health issues or fit problems can be addressed.
Is It Hard to Talk with Dentures?
When you first get dentures, it will take some time to get used to speaking with them. The amount of time it takes to get accustomed to them varies from person to person, but the more you practice, the quicker it will be. You may find that you have a lisp with dentures at first due to changes in your palate, but this will go away once you learn to correct them. Try reading out loud to yourself and reciting difficult-to-pronounce words. Speak slowly because fast speech may end up being muffled if you aren't used to speaking with your dentures.
Will Dentures Change the Shape of My Face?
When you lose your teeth, your facial muscles will begin to sag which can give your face a sunken appearance. When you get dentures, they will help to provide support to the facial muscles that have collapsed and improve your appearance. Ill-fitting dentures may not be giving your facial muscles the proper support, so it's important to design each restoration so it fits perfectly in your mouth. You should also have your dentures refitted or replaced as soon as you realize that the fit isn't optimal.