Dental Implants – Richmond, VA
Tooth Replacements
That Really Last
Although traditional dental bridges and dentures have been refined and improved over the years, they still have one major flaw—they only replace the crown or visible portion of missing teeth. Fortunately, our team here at Brown, Reynolds, Snow, and LeNoir Dentistry offers dental implants as a truly comprehensive way to bring back your smile's strength and appearance in the long run. Are you interested in learning more about dental implants in Richmond, VA? Get in touch with us to schedule your consultation for tooth replacements that really last!
Why Choose Brown, Reynolds, Snow, LeNoir Dentistry for Dental Implants?
Dental Implants Placed & Restored In-House
Highly Trained & Experienced Dentists
Flexible Dental Financing Available
What Are Dental Implants?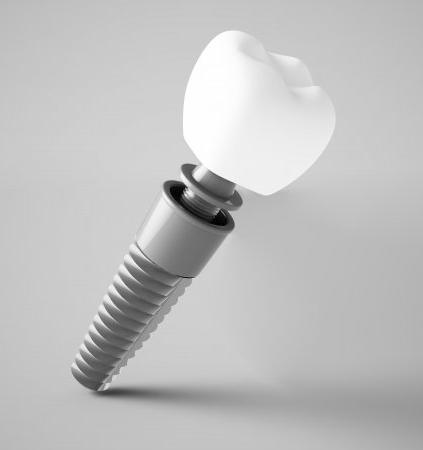 Instead of simply resting on top of the gum line like a traditional denture or bridge, a dental implant replaces the tooth's root structure with a biocompatible titanium post. Once this post is surgically inserted in the jaw, it becomes one with the surrounding bone via the process of osseointegration. This gives dental implants the sturdy foundation they need to support any number of replacement teeth. After osseointegration is complete, a metal connection piece, called an abutment, and a restoration are attached on top. Because dental implants recreate every part of the tooth's original structure, the end result is a smile that looks and feels like you never lost any teeth at all!
The 4 Step Dental Implant Process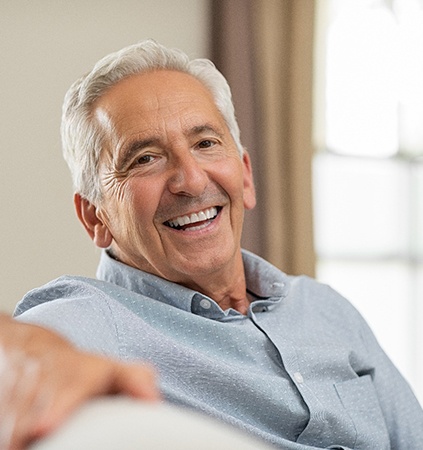 Getting dental implants is not a quick process; it can take anywhere from a few months to a year or more. However, the benefits provided by this high-quality solution make them worth the wait! Once the process is complete, you can expect your new teeth to last for decades, maybe even a lifetime. The details of the treatment vary between patients, but the four basic steps are the initial consultation, the dental implant surgery, osseointegration, and the placement of your restorations.
Initial Dental Implant Consultation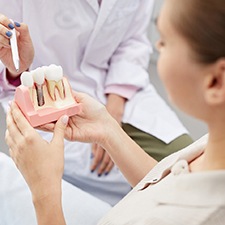 The first step on your journey towards a newly rebuilt smile is a consultation with our team. During your initial visit, we'll review your medical history and assess your oral health to determine whether or not this service is right for you. Some patients may need to undergo certain preliminary procedures like gum disease therapy, tooth extractions, or bone grafting before they can move forward with the dental implant process. Once that's taken care of, you can begin planning the rest of your treatment.
Dental Implant Surgery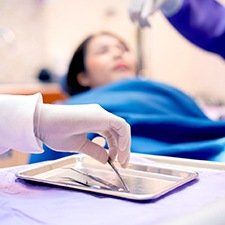 Believe it or not, dental implant surgery is a fairly simple process. After your implant dentist thoroughly numbs your mouth, they make small incisions in your gum tissue to access the jawbone. Then, each implant is strategically inserted at precise locations and angles. Your gums will be sutured shut and a protective cap will be placed over the implants to shield them throughout the healing process.
Dental Implant Osseointegration & Abutment Placement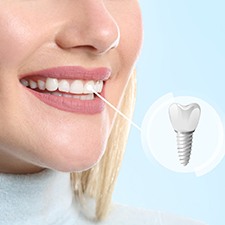 It'll take about three to six months for your dental implants to successfully fuse with the jawbone via a natural process called osseointegration. Once that's complete, you'll return to the office for a second minor surgery to receive your abutments. These small metal connector pieces are attached to the top of your implants, which allows us to secure your custom-made crown, bridge, or denture into place.
Delivery of Dental Implant Restorations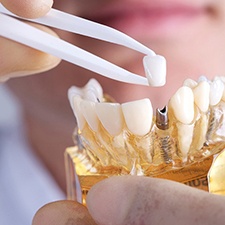 When we get your final restoration, you'll come back to the office to have it placed. It usually takes about two weeks for the dental laboratory to create your personalized crown, bridge, or denture. Because these restorations are typically made with natural-looking materials, they'll blend seamlessly with your remaining teeth. You'll be ready to put your new grin to use that very same day!
Benefits of Dental Implants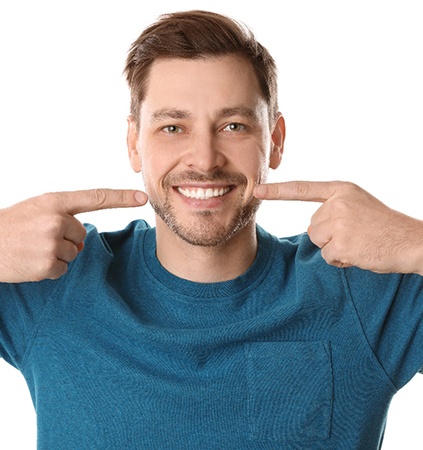 With their unique, nature-mimicking structure, dental implants can provide certain advantages over dentures and bridges alone. As you'll learn during your consultation and once the permanent restoration is attached, dental implants are capable of mimicking natural teeth in almost every single way. We encourage you to read more about the benefits in greater detail below and give us a call if you have any questions you'd like to address before beginning your tooth replacement journey!
Day-to-Day Benefits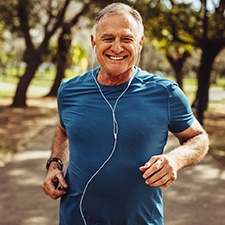 People often wonder what it's like to live with dental implants day-to-day. The fact of the matter is they really aren't that much different compared to your natural teeth! Here's how:
Whether you're seeing family for dinner, visiting old friends, or trying to impress at a future date, you can flash your smile off with confidence without anyone even noticing that you have dental implants!
Speaking with clarity is incredibly important, but it's not something that traditional dentures are necessarily the best at accommodating. Dental implants feel so much like natural teeth that you'll forget you even have them when you're socializing with others.
Unlike dentures, your dental implants will never shift out of place while in use. This means you can actually enjoy the foods you like and won't need to purchase denture adhesive going forward.
Health Benefits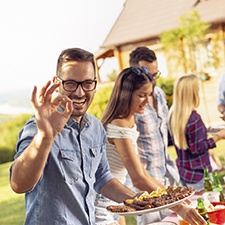 When it comes to your health, the benefits that dental implants are multi-faceted. Not only are you protecting your oral health, but you're doing big favors for your whole-body wellness as well:
With dental implants, you also get to enjoy a stronger bite that can handle fibrous foods, enabling you to enjoy a better diet and better health as a result.
Dental implants work to preserve existing jawbone tissue, which dramatically reduces the risk of future tooth loss. This makes dental implants one of the best proactive solutions to maintaining a healthy smile for life.
When it comes time to brush your teeth, there's no need to use special dental tools. Just brush and floss as normal to keep your mouth free of harmful plaque. You'll also only need to visit twice a year for professional checkups and cleanings. This makes protecting your oral health that much simpler.
Long-Term Benefits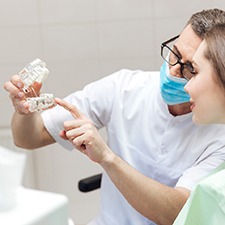 Dental implants are considered a lifelong investment, which means you can expect benefits that keep on giving, even decades down the road, including:
While other tooth replacements may only last for up to 10 years, dental implants have been known to continue functioning for more than 30 years! That's because they are embedded in the jawbone.
Dental implants keep your bone tissue stimulated, which helps you retain a youthful appearance as you age and provides enough blood show to the cheeks. The result is an appearance that actually reflects your age!
When you want a truly reliable tooth replacement, it's difficult to recommend anything other than dental implants. This is because they maintain a success rate that falls between 95% and 98%.
Who Dental Implants Can Help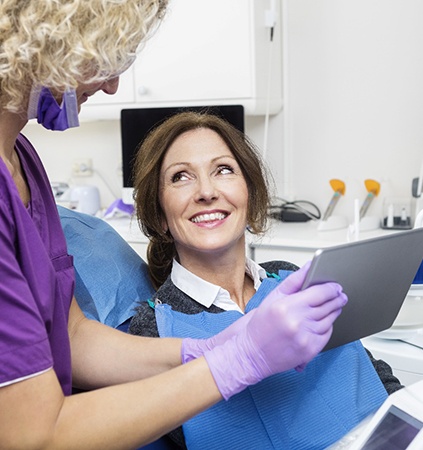 Many patients with lost teeth already qualify for dental implants. Basically, you need to be free from any oral infections like gum disease and have enough jawbone to hold onto implants. That's it! Whether you have just one or all of your teeth missing, we have an implant treatment option that can complete your smile for good. When you meet with one of our dentists, they can examine your mouth, discuss your specific situation, and create a plan to meet your needs.
Missing One Tooth
When replacing one lost tooth, we can use a single dental implant. Inserted into the socket, the implant is surrounded by new jawbone growth and doesn't depend on the teeth around it for stability. Once the area has healed, we'll place a dental crown on top.
Missing Multiple Teeth
For those who have lost multiple teeth, we don't have to place an equal number of implants. In fact, we can use just a couple to retain a bridge or partial denture, replacing these missing teeth as efficiently as possible while still providing the benefits of implants.
Missing All Teeth
Even patients who have no natural teeth remaining can take advantage of dental implants. With four to six implants in certain areas in the arch, a full denture can be secured in place, giving a patient about 70% of the biting force they had before. You can't get this with dentures alone!
Understanding the Cost of Dental Implants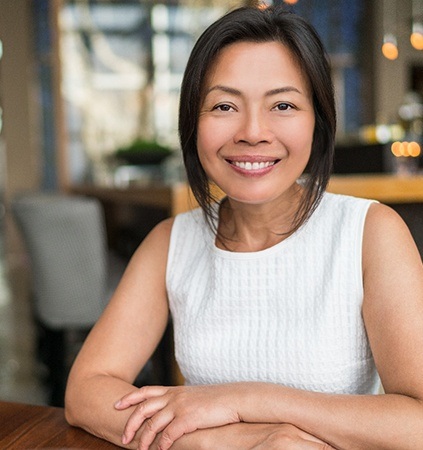 When you do a price comparison of your replacement options, don't be surprised to see that dental implants have a higher initial cost. But you need to consider how often and how much you'll pay to replace those other options over the years. It can all add up! You'll likely find that dental implants, with their unmatched longevity and many benefits, are a sound long-term investment that is well worth it.
What Are the Stages of Dental Implant Treatment?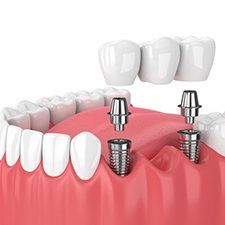 Dental implants are widely known for being incredibly lifelike and extremely durable; however, few patients are aware that the process is broken down into multiple stages. Not only does this give your mouth plenty of time to heal so that your new and improved tooth will be successful in the short and long-term, but it also provides you with more time to pay! Although each patient's dental needs are unique, there are a few phases of treatment that are all-encompassing:
The initial consultation – This will give our dental experts an opportunity to determine if you are a candidate by conducting a thorough dental exam and taking a few X-rays.
Additional procedures – If you need a bone graft or periodontal therapy beforehand to qualify, then that service will be worked into your treatment plan.
Placement surgery – During this step, the implant will be inserted into your jawbone. Don't worry – sedation or anesthesia will be used to keep you completely comfortable and relaxed during the entire process.
Abutments & restorations – Once the implant post has fused with your jawbone, an abutment will be placed on the top to anchor the dental crown in place.
Are Dental Implants Worth the Investment?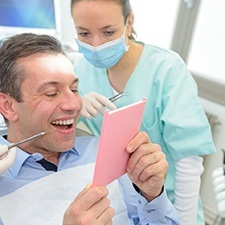 There is no denying that dental implants are more expensive initially, but it is important to consider the overall cost when determining which tooth-replacement solution is best for you. For example, while the cost of dentures is lower, they require routine adjustment appointments, special cleaning solutions, and replacements every 10 years or so. Plus, dental implants come with virtually no dietary restrictions, are extremely lifelike in look and feel, and are the only option on the market that stimulates your jawbone to prevent it from deteriorating. In short, dental implants are definitely worth the investment.
Paying for Dental Implants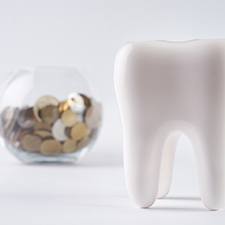 Paying for dental implants can initially be overwhelming, until you consider all the financing options available! If you have dental insurance and want to take advantage of your benefits, we are more than happy to accept your plan, file the claim on your behalf, and keep your out-of-pocket costs as low as possible. No dental insurance? We have an in-house membership plan that offers many of the same benefits (plus a few additional ones like 15% off dental implants) and accept low-to-no interest financing through CareCredit. Whichever route you choose, cost won't stand in your way!
Dental Implant FAQs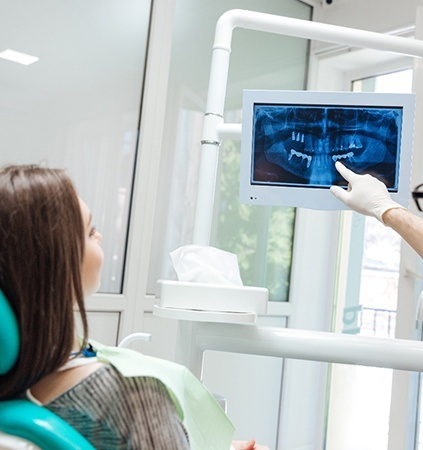 Dental implants in Richmond are truly unlike other, more traditional tooth replacement options like dentures and fixed bridges, so it's natural to have a few questions about them. That's why, for your convenience, we've gathered some of the most common questions we get about this state-of-the-art treatment below. We want you to be completely confident in your decision, so don't hesitate to call us if you don't see the answers that you're looking for!
How Are Dental Implants Cared For?
While your new dental implant won't be susceptible to cavities like your natural teeth, it's still important to keep it clean! A buildup of plaque and bacteria can easily lead to tooth decay or gum disease, both of which can damage the supportive tissues around your dental implant and cause it to fail. Thankfully, caring for your new dental implant is as easy as caring for the rest of your smile! Simply brushing your teeth for two minutes twice a day, flossing between all your teeth daily, and rinsing with antiseptic mouthwash regularly will help keep your dental implant beautiful, functional, and firmly in place for decades to come!
Will I Have to See a Specialist to Have My Dental Implant Placed?
Placing a dental implant is a surgical procedure, so some dentists need to refer you to a specialist. However, at Brown, Reynolds, Snow, and LeNoir Dentistry, we are proud to offer start to finish convenience when it comes to restoring your smile with dental implants. Thanks to advanced training and years of experience, your Richmond dentist will be able to complete your entire dental implant procedure, from consultation to restoration, right here in our office. Your friendly, familiar dental team will be with you every step of the way towards your new smile to ensure the experience goes as smoothly as possible!
How Long Does the Dental Implant Process Take?
Rebuilding your smile with one or more dental implants is a multistep process. First, a small titanium post is surgically placed into your jawbone. Over the next several months, it undergoes osseointegration, where the post fuses with the surrounding bone tissue. This firm foundation in the jawbone is what provides its unmatched strength, comfort, and longevity. Depending on factors such as your age, health, number of dental implants being placed, and lifestyle, it may take six to eight months or more for your mouth to fully heal. While dental implants may take more time to get than dentures or fixed bridges, the permanent, comfortable, and lifelike results are well worth the wait!
Can Dental Implants Fail?
Dental implants boast an astonishing success rate of nearly 99%. Before your treatment begins, your dentist will carefully inspect your mouth for tooth decay, gum disease, jawbone loss, and any other oral health issues that could cause your dental implant to fail. Once these issues have been addressed and your dental implant has been placed, its success will largely depend on how well you take care of it. As we covered above, an unhealthy mouth encourages plaque and bacteria to attack the tissues that help keep your implant in place. Thankfully, as long as you practice great at-home oral hygiene and visit your dentist twice a year for routine checkups and cleanings, your smile should stay happy, healthy, and fully intact for the rest of your life.
If you have more questions or are ready to schedule your consultation, don't hesitate to give us a call!
How Long Do Dental Implants Last?
You've probably heard that dental implants are built to last, but what is their lifespan, exactly? With proper care, this state-of-the-art tooth-replacement solution can last for 30+ years. Fortunately, they don't require any more maintenance than your natural teeth. Just brush twice a day, floss daily, avoid unhealthy dental habits, and visit your dentist every six months for a checkup and cleaning!
How Successful Are Dental Implants?
Dental implants have an impressive success rate. In fact, it's over 95%! During the initial consultation, our team takes the time to consider important factors that could influence the short and long-term success of your dental implant, including your oral hygiene regimen, lifestyle habits, and jawbone density. From there, we can determine if dental implants are the most ideal tooth-replacement solution for you.
Am I Too Old to Get Dental Implants?
In short, age isn't what determines whether or not you're a candidate for dental implants. Whether you're 45, 65, or 85, this smile-rebuilding solution may be right for you. So, don't hesitate to schedule a consultation! During your visit, we can take a look at your teeth and jaw while hearing about some of your concerns. From there, we can review your medical and dental history to determine if dental implants are the best choice.
Can I Get Dental Implants If I Smoke?
The answer to this question depends entirely on the patient. However, it is important to note that tobacco use has been associated with complications, like dry mouth and slowing down your ability to heal. Therefore, patients are strongly encouraged to quit beforehand. Not only will this lead to a much smoother procedure, but it will also help prevent short and long-term failure.
Will People Be Able to Tell That I Have Dental Implants?
Luckily, dental implants in Richmond are custom-made for each patient. As a result, they mimic the shape and size of the missing tooth, allowing it to seamlessly blend in with your existing smile. Furthermore, the titanium post is inserted directly into the jawbone, acting as the root. This allows for even greater stability and minimal movement. So, no, your dental implants won't be obtrusive, clunky, or obvious.
Do Dental Implants Decay?
Since dental implants are made of high-quality materials, like porcelain, they do not decay like your natural teeth do. That doesn't mean you can stop brushing your teeth or visiting your dentist for biannual checkups though. Your surrounding teeth and gums are still vulnerable to serious dental problems, including cavities and gum disease. So, for a smile that is both healthy and beautiful, continue to maintain a solid oral hygiene routine.
Maintaining & Caring for Your Dental Implants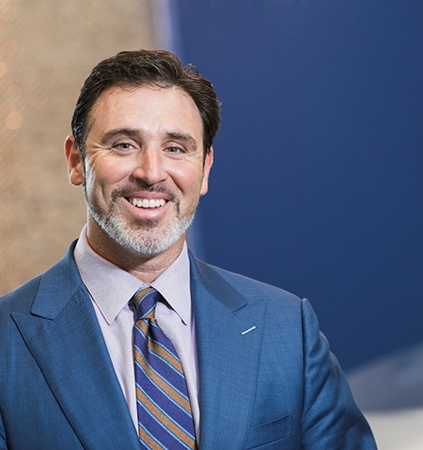 After finally completing the process of getting dental implants in Richmond, you'll naturally want your new teeth to last as long as possible. Unlike other tooth replacements, dental implants can potentially last a lifetime, but only if you're diligent about taking care of them. Dental implant maintenance is fairly simple and doesn't differ much from caring for natural teeth. These five tips can go a long way in helping your new smile stand the test of time!
Prioritize Oral Hygiene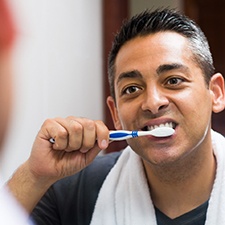 Your implants can't get cavities, but they rely on the surrounding gum tissue for support. Inadequate oral hygiene might lead to gum disease, which could damage the gums and underlying jawbone to the point where the implants lose support and ultimately fail. The easiest way to prevent this is by maintaining an oral hygiene routine. Luckily, daily dental implant care in Richmond isn't complex like it is with dentures. All you need to do is brush your teeth (natural and implant-supported) twice a day and floss at least once a day.
Stick to a Healthy Diet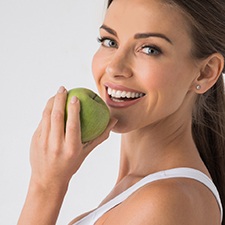 Even though it's possible to chew nearly every food with dental implants, some foods are better for them than others. Eating too many sticky, hard, or sugary foods could dislodge your implant restoration, damage the implant, or contribute to gum disease. Instead, keep such items to a minimum and vary up your diet with a wide range of fresh fruits, vegetables, and other nutritious foods.
Break Bad Habits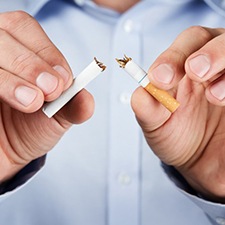 Just as with natural teeth, some bad oral habits could spell disaster for your dental implants, including:
Using tobacco – Whether you smoke it or chew it, tobacco doubles your risk for gum disease. It also hampers the body's ability to fight infections, so gum disease becomes more likely to cause dental implant failure.
Chewing on hard objects – Biting down on pen caps, ice cubes, fingernails, and similar hard items could weaken or damage your implant restorations.
Using your teeth as tools – Your teeth (implants included) aren't meant to withstand the force of opening packaging, tearing tags off of clothing, or anything else besides chewing food.
Protect Your Dental Implants with a Mouthguard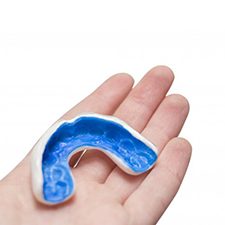 Do you play sports? Talk to your implant dentist in Richmond about getting an athletic mouthguard. Unlike the mouthguards you'll find at the sporting goods store, ours are custom-made to fit the unique contours of your teeth. This makes them more comfortable and effective – minimizing the risk of severe injury to your implants as well as your jaw and soft tissues in your mouth.
You'll also want to wear a nightguard if you grind your teeth while you sleep. Over time, clenching and grinding could put your implants under serious stress. Our practice can provide personalized nightguards, which create a durable barrier between your upper and lower arches to keep your smile safe as you slumber.
Schedule Regular Dental Checkups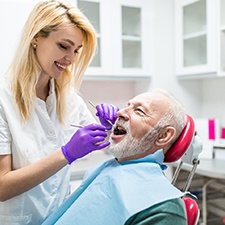 No matter how many of your teeth are natural and how many have been replaced with implants, you should still attend a dental checkup every six months. Dental problems often don't present noticeable symptoms in the early stages, but at these visits, our dentists can identify minor issues with your gums, implants, or remaining teeth. From there, we can treat them before they have the chance to wreak havoc on your grin.