Smile Makeover—Desirae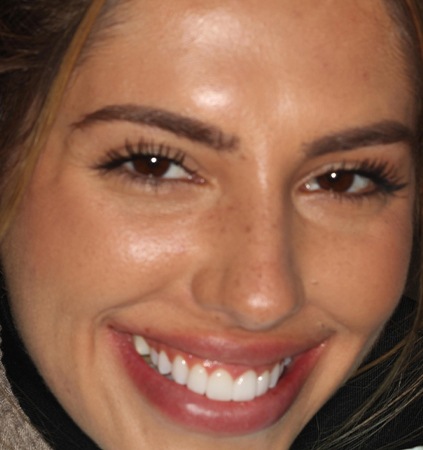 By the time Desirae came to BRSL Dentistry, she was extremely frustrated. An injury had forced her to get a crown placed on one of her front teeth, and she was never happy with how it looked. Worse yet, after having it adjusted, it started causing gum irritation.
She ended up visiting four other cosmetic dentists, all of whom didn't make her feel comfortable enough to get additional treatment. They didn't explain her options very well or give her any options at all. After doing more research online, she eventually found her way to our practice.
Right from the start, Desirae said the experience at BRSL Dentistry felt very different compared to the other offices. Everyone was friendly. Appointments weren't rushed. The team was concerned with how she felt and what she wanted rather than simply telling her what treatments she needed.
She started with our team member, Erika, who asked her about her dental history and concerns before taking some X-rays. Erika then went over her treatment options, many of which were less invasive than what other dentists said she absolutely needed. Desirae deeply appreciated that she didn't feel pressured to choose one over the other. Erika simply explained everything clearly so Desirae could decide for herself. She ended up choosing to replace the crown with a better looking restoration as well as get three veneers so her smile looked uniform.
Before the procedure, Dr. Brown showed Desirae a portfolio of smiles and asked which ones she liked. He helped her choose a shape for the veneers that would go well with the structure of her face. Desirae felt like she had all the information she needed and was very confident going into treatment, which put her mind at ease.
Today, Desirae says that her new smile makes her feel "amazing!" She always loved to smile, but even more so now! In the past, she wouldn't like pictures of herself at certain angles because of how her teeth looked, but that's no longer a worry.
From start to finish, Desirae has nothing but positive things to say about her experience at BRSL Dentistry. She thinks that Dr. Brown is the best and would recommend that anyone schedule a consultation at the practice if they want to enhance their smile—it would certainly save them a lot of time compared to what she had to go through!
Use the interactive slider to view Desirae's transformation!