Smile Makeover - Isabelle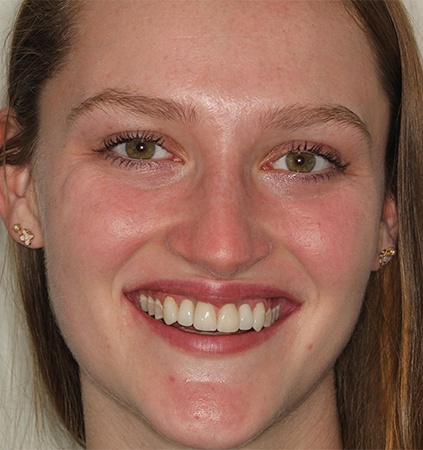 As a college student, Isabelle faced many of the same issues as her peers, namely, balancing work, class, and play in the run-up to graduation. However, she had an extra problem that people her age often don't have to deal with: front teeth that would randomly fall out. After having her teeth repaired as a child, her temporary solution was beginning to break down, and this caused all sorts of problems. Not only would the prosthetic dislodge at the most inopportune times, but it also caused Isabelle to develop self-confidence issues. She even changed how she smiled to hide her teeth, always worried that people would notice that something was "off."
With graduation looming, Isabelle set a goal for herself to get some great pictures on the day of the ceremony, so fixing her teeth was essential. She eventually found herself in the office of our own Dr. LeNoir. Isabelle was a bit stressed heading into this appointment, but Dr. LeNoir made sure to put her at ease:
"My first consultation was intimidating. I felt as if I had so many options to choose from in proceeding with my care and did not know what was best. After several options were presented, Dr. LeNoir spent a significant amount of time discussing everything with me. He went out of his way to make sure I not only understood all my options but was comfortable with making such a big decision."
In the end, Isabelle and Dr. LeNoir decided to place veneers on her front six teeth. Isabelle was not only impressed with her results, but was also pleasantly surprised at how much effort the team put into making her feel comfortable each step of the way:
"Dr. LeNoir was amazing throughout the entire experience. Every decision being made about my care was a discussion in which Dr. LeNoir was compassionate and helpful. Dr. LeNoir was genuinely concerned about my wellbeing throughout the process and continually contacted me just to check if I was doing OK."
Isabelle can now look back at her graduation photos and happily remember the day without giving her teeth a second thought. Since then, her life has only continued to get better thanks to her renewed smile:
"Since my procedure, I have become exponentially more confident in nearly every aspect of my life. Before my procedure, I was constantly worried about my front teeth falling out. My temporary solution was precarious, and my teeth would often become dislodged or fall out altogether when eating anything tough. Today, I simply do not have those worries. The procedure relieved years of stress and anxiety."
Use the interactive slider to view Isabelle's transformation!