Smile Makeover - Meghan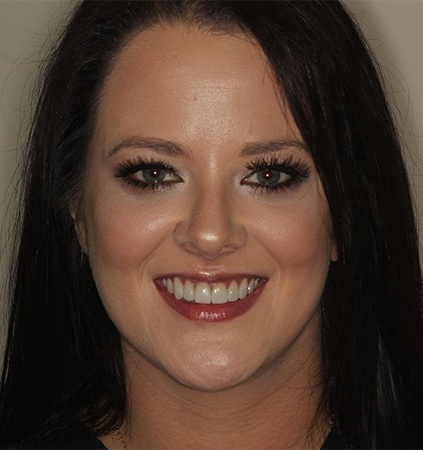 As a teenager, Meghan had composite veneers placed on some of her teeth. As a result of time, wear, and smoking, they started to break down. In addition, her front teeth had begun to shorten and have noticeable discoloration as well. Before coming to our practice, she felt nervous about seeing a dentist again after many years away, but for her 30th birthday, she wanted to give herself an important gift—a healthier, more beautiful smile. Fortunately, she turned to our compassionate, experienced team for help.
During Meghan's consultation, Dr. LeNoir was concerned about addressing a few cavities and other health issues before making cosmetic changes. Together, they fixed all the issues that stood between Meghan and her goals. Now, after a full custom smile makeover with eight veneers in her upper arch, she finally has the smile of her dreams.
Meghan loves her transformation and can't stop talking about it!
She says, "Dr. LeNoir and his team never made me feel guilty or embarrassed about what needed to be done. They took into account what I wanted done and what needed to be done. I have the smile I have always wanted, and I feel more confident in every decision I make. I trusted Dr. LeNoir and have a better smile than I could ever imagine."
Use the interactive slider to view Meghan's transformation!